This article is an excerpt from our Sefer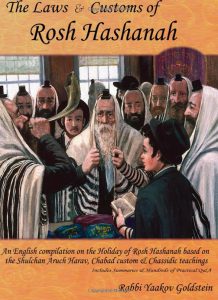 1. Fasting on Erev Rosh Hashanah:[1]
Erev Rosh Hashanah is an accustomed fast day [for both men and women[2]].[3] [Many however are no longer accustomed to fast on this day.[4] See footnote for Chabad custom.[5]]
Children:[6] Even children [that are above Bar and Bas Mitzvah[7]] are accustomed to fast.
Is one to accept the fast the Mincha prior?[8]  It is not necessary to accept the fast the Mincha beforehand. [If one accepts the fast the Mincha prior then he is obligated to fast until nightfall. For this reason one should refrain from doing so.[9]]
When does the fast begin?[10]  The fast begins from Alos/dawn of Erev Rosh Hashanah.
When does the fast end?  One is not to fast the entire day.[11] Many fast until the time of Mincha Gedolah[12], upon which they daven Mincha and then eat.[13] In such a case one says Aneinu in the private Shemoneh Esrei of Mincha [however not during Chazaras Hashatz]. If however one ate before Mincha, Aneinu is not said.[14] Some Poskim[15] say one may even initially eat prior to Mincha. This especially applies if a Minyan is not currently available, or one is unable to Daven with concentration.[16]
Eating before Alos/dawn:[17]  Many are accustomed to eat before dawn of the fast in order to negate the custom of idolaters to fast on the eve of their holidays.[18] One may eat before dawn even if he went to sleep without stipulating to eat upon waking up before dawn. [Nevertheless some Poskim[19] rule it is a grave prohibition according to Kabala to eat, prior to dawn, after awakening, throughout the entire year, and this prohibition likewise applies prior to a fast. This prohibition applies starting from midnight and onwards after awakening from a standard sleep of 60 breaths.[20]  Practically the custom of Sefaradi Jewry is to be stringent.[21] However Ashkenazi Jewry is lenient[22] and so is the Chabad custom.[23] If one did not sleep that night for at least 60 breaths then he may eat according to all up until dawn.[24] Likewise some Poskim[25] rule that if one plans to return to sleep for a second time before Alos then this prohibition does not apply. Likewise if one is weak or sick he may eat prior to Alos even according to the Zohar.[26]]
One who is weak or sick:[27]  One who is slightly sick should not fast, [rather he should redeem the fast with charity]. [Some[28] write that due to our weak state health one is not to fast at all on Erev Rosh Hashanah and rather is to redeem the fast with charity.]
Seudas Mitzvah:[29]  One may participate in a Seudas Mitzvah on Erev Rosh Hashanah. This applies even if one is generally accustomed to fast on Erev Rosh Hashanah. [Nevertheless he is not required to eat if he so chooses[30] unless he is part of the Minyan of ten in which case it is a Mitzvah to eat.[31] Certainly the Baal Bris which is the father, Mohel and Sandek are required to eat and cannot fast.[32] They may eat even prior to the Bris, although the other guests are to fast until the Bris.[33]]
Kerias Hatorah:[34]  The congregation does not read the portion of Vayichal from the Torah scroll as this fast is not a public fast.
Fasting for ten days:[35] Those which are meticulous are accustomed to fast for a total of ten days See "Aseres Yimei Teshuvah" Halacha 4 for the full details of this subject!
Summary:
It is accustomed to fast on Erev Rosh Hashanah until midday. Those which are weak and are unable to fast do not need to do so. Many people today are accustomed to be lenient regarding this fast.
Sparks of Kabala:[36]
Although fasting during Aseres Yimei Teshuvah is an act of piety nevertheless the main Tikkun during these days is actually fulfilled through eating. The fasting is only done due to the requirement to achieve atonement for sin. It is therefore written in Sefarim that one must eat bread every night of Aseres Yimei Teshuvah in order to recite the blessing of Birchas Hamazon.
---