This article is an excerpt from our Sefer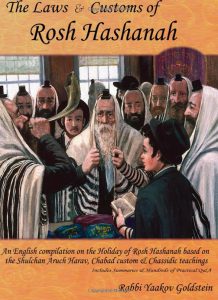 17. The last Mincha:[1]
Tehillim:[2] One begins saying Tehillim from one hour before Mincha.  
Sincere intent:[3] One is to Daven the Mincha prayer of Erev Rosh Hashanah with intense concentration, slightly lengthening the prayer. This is the last prayer of the year and is the introductory prayer to the Holy day of Rosh Hashanah. For this reason it is proper to Daven Mincha slightly earlier in the day.
Erev Rosh Hashanah that coincides with Erev Shabbos:[4] When Erev Rosh Hashanah falls on Erev Shabbos one recites the paragraph of Hodu and Patach Eliyahu prior to Mincha as usual. [One does not recite Hodu or Patach Eliyahu prior to Mincha of Erev Rosh Hashanah if it does not fall on Erev Shabbos.[5]]
A Chassidic perspective:[6]
By the last prayer of the year the Avodah of a person is to make a true and honest accounting of his soul, regarding all the events of the previous year, in regards to both positive and negative commands, and good character traits and fear of Heaven. One is to recognize how G-d has been truly good to him in giving him blessings in so many areas while he himself is truly undeserving and has rebelled and ignored G-d's commands in spite of the above. He is like a son who his father has shown him much love and kindness and he simply ignores his father and treats him despicably. One is to bring himself to true bitterness over his past ways and make firm resolutions in how to improve himself.
Mincha of the Rabbeim:
The Maggid of Mezritch Davened Mincha of Erev Rosh Hashanah for many hours, singing a soulful melody and breaking into uncontrollable tears in the process, like one who is parting from his beloved friend. In this method the Alter Rebbe educated his children and grandchildren and so was the custom of the Rabbeim in each generation.[7] In 1951 the Rebbe Davened Mincha for a prolonged time with frightful outbursts of crying. A very stern composition was apparent on the Rebbe's face throughout the time.[8]
---
[1]

The Piyut Achos Ketana

: Many have the custom to recite the Piyut Achos Ketana by Mincha of Erev R"H. This is not the Chabad custom. [Otzer Minhagei Chabad p. 56]
[2] Sefer Haminhagim p. 117 [English]; Letter of Rebbe Rayatz printed in Kovetz Michtavim in Tehillim Yosef Yitzchak
[3] Mateh Efraim 581/57; Sicha of Rebbe Rayatz in Sefer Hamamarim 5703 p. 41-43
[4] Shaar Hakolel 17/2; Shevach Hamoadim p. 14; Otzer Minhagei Chabad p. 55
Other Opinions: Some are accustomed not to recite Hodu before Mincha of Erev Rosh Hashanah even if it coincides with Erev Shabbos. [Darkei Chaim Veshalom 704; See Shulchan Hatahor 262/12]
[5] Alef Hamagen 581/135; Otzer Minhagei Chabad p. 57
Other Opinions: Some are accustomed to recite Hodu before Mincha of Erev Rosh Hashanah even if it does not coincide with Erev Shabbos. [Mateh Efraim 581/57]
[6] Sefer Hamamarim 5703 p. 41-43           
[7] Sefer Hasichos 1942 p. 2; See Otzer Minhagei Chabad p. 57 for the customs of this Mincha prayer by other Chassidic Rebbe's
[8] See Otzer Minhagei Chabad p. 54