This article is an excerpt from our Sefer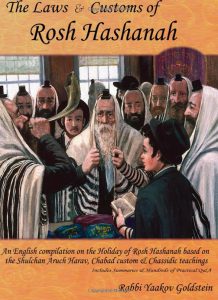 14. Shabbos Mevarchim Tishrei:[1]
No blessing before Musaf:[2] On the Shabbos before Rosh Hashanah we do not bless the coming month despite this being the custom on every Shabbos that precedes Rosh Chodesh.[3]
Tehillim:[4] The entire book of Tehillim is recited before Shacharis just as on any other Shabbos Mevarchim.
Av Harachamim:[5] One recites the paragraph of "Av Harachamim" prior to Musaf.[6]
Farbrengen: At the conclusion of the prayers one is to have a Chassidic gathering as is done on every Shabbos Mevarchim.[7] This gathering is to include good and practical resolutions in matters of spiritual and physical charity.[8]
Omitting Vihi Noam:[9] The entire[10] prayer of Vayehi Noam is customarily omitted on the Motzei Shabbos directly prior to any Holiday including Rosh Hashanah.[11] If however Rosh Hashanah falls on Shabbos, Vayehi Noam is recited the previous Motzei Shabbos.[12]
Sparks of Chassidus
Hashem blesses this month:[13]
On the Shabbos before Rosh Hashanah, which is the last Shabbos of the month of Elul, we read the passage in the Torah which begins נצבים אתם. These words are G-d's blessing to the Jewish people. The Rebbe Rayatz records the following statement from his father the Rebbe Rashab: When I was a child I asked my father, the Rebbe Maharash, "Why do we not bless the month of Tishrei as we bless the other months?" The Rebbe Maharash in turn replied that when he was a child he had asked the same question to his father the Tzemach Tzedek who in turn said that when he was a child he asked this question to his grandfather the Alter Rebbe. The Alter Rebbe replied that he heard the following teaching in Mezritch from his master, the Maggid, who had received it from his master, the Baal Shem Tov: The seventh month [i.e. Tishrei], which is the first of the months of the year, is blessed by G-d Himself on Shabbos Mevarchim, which is the last Shabbos of the month of Elul. By virtue of this blessing the Jews are empowered to bless the other months eleven times a year. This is the content of G-d's blessing: "Atem Nitzavim Hayom" [i.e. You are standing this day]. The word היום [i.e. this day] refers to Rosh Hashanah, which is the Day of Judgment. The phrase Atem Netzavim implies not only that the Jewish people are standing, but furthermore that on this day "you are sustained in your firm stance" which means that you are acquitted in your trial.
Shabbos Selichos:
In years that Rosh Hashanah falls on Thursday or Shabbos then Shabbos Mevarchim is also considered Shabbos Selcihos. See Halacha 15C in Q&A for a description of Shabbos Selichos in Lubavitch!