This article is an excerpt from our Sefer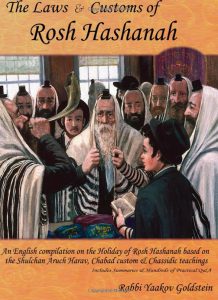 6. Wishing each other a sweet new year:[1]
We begin to wish each other a "Kesiva Vachasima Tovah"[2]  starting from Rosh Chodesh Elul. [Some[3] are accustomed to begin doing so from the 15th of Menachem Av.] In a letter to a friend one must begin [or end[4]] with a blessing for the person to have a good year.[5] [The Rebbe's custom was to write the blessing at the end of the letter.[6] One is to continue to do so until Rosh Hashanah. From after Rosh Hashanah until Yom Kippur one writes Chasima Vegmar Chasima Tovah.[7] From after Yom Kippur it is no longer our custom to write the blessing[8], although some do so until Hoshanah Raba.[9] ]
Sparks of Chassidus
The blessing affects oneself and the person being blessed:[10]
The reason of blessing each other is because the words of a Jew have power and affect. One can actually change another Jew's future through a kind blessing. When one blesses another Jew this adds to the blessing of Hashem to every single Jew in Klal Yisrael in both physical and spiritual matters.
Going out of one's way to bless each other: [11]
For the above reason each person is to actually go out of his way to bless a fellow Jew with a Kesiva Vechasima Tova both orally and in writing. A man is to bless another man and a woman another woman. Children are to bless other children of their gender, boys are to bless other boys and girls are to bless other girls.[12]
Story of Rebbetzin Devorah Leah:[13]
In the known story of Mesirus Nefesh that the daughter of the Alter Rebbe took upon herself to exchange her life for the life of her father who was given a supernal decree of death[14], the blessing of "Kesiva Vechasima Tova" took a pivotal role. It was understood that whoever would be the first to wish the other this blessing on Rosh Hashanah would take the decree upon himself and revoke the decree from the person who received the blessing. On that first night of Rosh Hashanah against the usual practice of the Alter Rebbe viewed in previous years to avoid speaking at all on Rosh Hashanah, the Alter Rebbe asked for his daughter Devorah Leah. The Alter Rebbe came to approach his daughter Rebbetzin Devorah Leah and began blessing her with "Leshana..". Before he got a chance to finish the blessing his daughter cut him off and said "Leshana Tova Tekaseiv Vesechaseim, Father don't speak". And so it was that she exchanged her life for the life of her father and saved the Chassidic movement. She fell sick the next day and passed away on Tzom Gedalia.
---