This article is an excerpt from our Sefer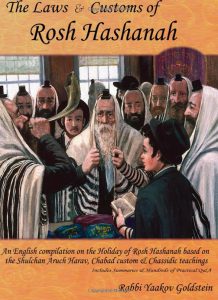 11. Marital Relations on Rosh Hashanah [1]
One is to avoid marital relations on both nights of Rosh Hashanah, in order not to enter into a state of Keri.
Mikveh Night: If the 1st or 2nd night of Rosh Hashanah is the night of Mikvah then one is obligated to have intercourse that night. [One who refrains from doing so is considered as if he is performing a Mitzvah as a result of an Aveira.[2] If a woman delayed going to Mikveh prior to Rosh Hashanah some Poskim[3] rule she is not to immerse on the night of Rosh Hashanah.[4] However many Poskim[5] rule that she is to immerse.]
Strong desire:[6] Those who feel a strong desire which may prove difficult to withhold are better to have intercourse than to come to doing a sin.
Immersing in a Mikveh the next morning:[7] A man who had marital relations on the night of Rosh Hashanah, such as in the event of Mikveh night or a strong desire, is to immerse in a Mikveh the next morning prior to Shacharis. [In the event that one knows he will be unable to immerse in a Mikveh the next morning he is nevertheless obligated in marital relations if his wife went to Mikveh that night.[8]]