This article is an excerpt from our Sefer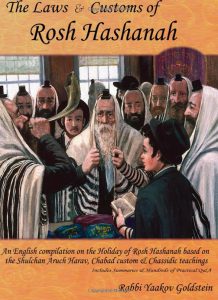 Introduction to the prayers of Rosh Hashanah
The form of prayer required on Rosh Hashanah:
One should pray with profound bitterness, having recognition that one is approaching the King with "torn garments", and thus begging G-d to have mercy and accept him as his servant.[1] Nevertheless, when one accepts the yolk of heaven it must also be done with joy and desire.[2]
What to Daven for:[3]
The Rebbe Rashab stated: "On Rosh Hashanah one is to pray with great fervor, accompanied by tears of mercy, that one be successful in amending his character and acting in a Chassidic method." The Zohar states that those that pray on [Rosh Hashanah and] Yom Kippur merely for physical matters are similar to a dog that screams "give give" for their food. This is the attribute of the Eirev Rav and the gentiles that they are only able to serve G-d for reward and selfish motivations. Rather a Jew is to arouse himself in Teshuvah out of love for the Shechina and desire for it to leave the exile.[4]
Crying during prayer:
The Arizal[5] would cry profusely during the prayers of Rosh Hashanah and Yom Kippur, and so was the custom of the Chabad Rabbeim[6], and the city of Lubvatich.[7] The Arizal said that if one is not drawn to cry during these days [of Rosh Hashanah and Yom Kippur] it is a sign that his soul is incomplete, G-d forbid.[8] This cry that is required is one of passionate longing for G-d. One is however not to cry on Rosh Hashanah due to a loss in physical or even spiritual matters.[9] This however only applies to Tzaddikim Gemurim, however those which still contain evil in their hearts, certainly are to cry over the evil that is in them which prevents them from attaching to G-d.[10] If one is strong hearted and is unable to bring himself to tear than he is at the very least to make a crying sound, and Hashem will hear the attempted cry of his heart.[11]
Rosh Hashanah that falls on Shabbos:[12] One is to cry on Rosh Hashanah even if it coincides with Shabbos.
Crying without reason:[13] One who is suddenly overcome with an outburst of tears on Rosh Hashanah is a sign that at this moment his soul is being judged before Hashem.
The affect of tears:[14] One who cries out of Teshuvah on Rosh Hashanah has the ability to tear the evil decree and write him into the book of Tzaddikim. The Zohar states that crying during prayer is a great Segula for one's prayer to be accepted above.
Wiping the tears over one's face:[15] It is proper to wipe the tears over one's face as the sins of a person are written on his forehead [and are hence cleansed by these tears].
May one pray for physical matters on Rosh Hashanah?[16]
Yes.[17] One may make requests of physical and spiritual matters on Rosh Hashanah even if it coincides with Shabbos.
Tehillim:[18]
The main Avoda on Rosh Hashanah is accepting Hashem's Kingship. This is expressed specifically through the simple words of Tehillim. Thus all Jews, including those that are learned and of great spiritual stature are to spend their time reciting Tehillim.[19] The saying of Tehillim overrides even the learning of Chassidus.[20] The saying of Tehillim adds millions of words into the Sefira of Malchus.[21] The words of Tehillim are to be recited aloud.[22]
Reciting Tehillim throughout Rosh Hashanah: Throughout both days of Rosh Hashanah, from an hour before Minchah on the eve of Rosh Hashanah until Maariv at its conclusion, every person should diligently recite Tehillim both at night and by day. He is to intensify his devotion in prayer and supplication from the depths of his heart, and recite Tehillim at every available moment. This was the custom of the Chabad Rabbeim in all generations.[23]
Reciting the entire Tehillim twice:[24] Some are accustomed to recite the entire book of Tehillim twice throughout the two days of Rosh Hashanah. This is in order to read 300 chapters of Tehillim which corresponds to the numerical value of the word Kaparah, atonement. Nevertheless it is better to recite a smaller amount with concentration than a large amount without focus.
Diminish in sleep in order to say Tehillim: One is to diminish his sleep as much as possible during both nights of Rosh Hashanah, hence sleeping less than usual. One is to rather use his time in prayer and recital of Tehillim.
Mundane speech: During the two days of Rosh Hashanah, one is to completely abstain from any mundane conversation to the utmost.[25] He is to act as a slave who does not have even one moment free to rest from his master's work, and like a son that is toiling in effort to greet his father.[26]
The Rebbe's Custom:[27]
The Rebbe reads Tehillim extensively during the two days of Rosh Hashanah. Throughout Rosh Hashanah the Rebbe speaks very little.
---