This article is an excerpt from our Sefer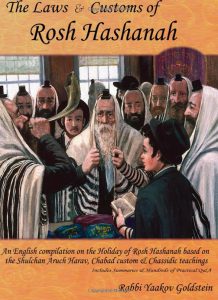 Foods that are avoided on Rosh Hashanah: 
Nuts: [1] Some are particular to avoid eating Egozim and Luzim[2] [and all forms of nuts[3]] on Rosh Hashanah.[4]
Sour and pickled foods:[5] The fish [eaten as the Siman] is not to be cooked in vinegar. [Many people avoid eating all pickled or sour foods, such as lemons [pickles and olives[6]] and the like.[7] Likewise all bitter foods are avoided.[8]]
Other foods listed in Poskim that are to be avoided:
Summary of foods that are avoided:
Nuts

Pickles

Olives

Sour grapes

Unripe fruits

Bitter fruits and vegetables.
Q&A
May one use the above foods as seasoning for other foods?[22]
It is permitted to season ones food with any of the above ingredients so long as the food will not become bitter or pickled due to the seasoning. Thus one may season salad with lemon and the like.
May one eat cake and cookies that contain nuts?[23]
It is permitted to eat cakes, cookies and the like that contain ground nuts within their ingredients even if their taste is slightly felt within the food.[24] This applies even if it contains the Egoz nut.[25] Nevertheless many are accustomed to be stringent to avoid eating any food that contains the Egoz nut in the ingredients as the Egoz is the Gematria of Chet [sin]. Practically one who is stringent is blessed.[26]
Must one avoid eating spicy, sharp and hot foods?[27]
There is no need to refrain from eating sharp foods, such as chili peppers, Sechug, Charif and the like.
Until when are the above foods to be avoided?[28]
The custom is to avoid eating nuts until after Simchas Torah.[29] Many[30] are accustomed to avoid eating any of the above foods until after Simchas Torah.
Avoiding anger:[31]
One must be very careful not to get angry on Rosh Hashanah, as besides for the great sin of anger, doing so on Rosh Hashanah is a bad omen for the coming year.
Being joyful and happy as a good omen:[32]
One is to be happy and rejoice on Rosh Hashanah as a good omen for the coming year. He is to trust in Hashem that his Teshuvah and good deeds will be accepted before Hashem.
Not to smoke:[33]
Those people who do smoke throughout the year, including on the festivals, abstain from doing so on Rosh Hashanah. It would be proper for Torah scholars to adhere to this restriction and to influence their acquaintances likewise. This applies even in private.[34]